>
Team / Dries Debackere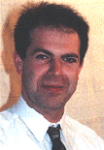 "From my perspective, true transcultural competence is based not so much on knowledge of one or other foreign culture as on knowledge of one's own roots, undoubtedly the best point of reference."
Dries was born in a small village in West Flanders, Belgium in 1967 and grew up in a Flemish-speaking family. At school he learnt "standard" Dutch, before tackling French, Latin, Greek, English and German and was awarded a degree in translation. He then set up as a translator and foreign languages trainer, specializing in management and human resources. He continued his studies and developed skills in export management, the training of trainers and the management of small and medium-sized businesses (SMEs).
He quickly realised that many of his clients - mainly export-oriented SMEs - were not managing to develop sustained relations with clients abroad, despite their efforts to achieve a very high level of competence in each client's language, despite thorough market research and despite the unquestionable quality of their products… Dries decides to focus his training courses on what he calls the "invisible part of the export iceberg" : the intercultural aspects.
For the past twenty years he has helped leaders and managers of large, medium-sized and small businesses alike to overcome linguistic and cultural barriers. Although a specialist in Belgian culture, he regards himself more as a generalist/facilitator, in the sense that he prefers to work on the transcultural development of the potential of an organisation, a team or an individual.